April 29, 2009
The Facts:
Williamson Wines is a Dry Creek Valley producer whose focus is largely (though not exclusively) Bordeaux varietals.Their tasting room is located in a downtown Healdsburg Storefront. Their address is 134 Matheson Street and phone number is 707-433-1500. They're open daily from 11:00 AM to 7:00 PM. Most tastings are either $25 or $40, though they offer numerous other options and special packages whose cost varies greatly.
Gabe's Take:
When I walked into Williamson Wines the first thing I noticed was Dawn Williamson's accent. Deep in the heart of Sonoma you don't normally expect Australian wine families. But Dawn & Bill Williamson are an Australian couple that's been in the US for close to 30 years; for the last 7 they've been making wine. And oh what lovely wines they produce.
Several tasting options are available. Each wine, regardless of which tasting is paired with small bites. Most of these are cheese based. However it's not simply cheese. A Sauvignion Blanc for instance was matched up with Irish Cheddar that had been topped with a combination of spices and ground, toasted nuts. While that might sound hard to wrap your mind, or palate around, it worked. While they worked to my taste buds to varying degrees, most of them worked splendidly. A small piece of brownie matched up with a 100% Merlot was my favorite pairing of the day. As for the wines themselves there were several that stood out to me. A Dry Creek Cabernet Sauvignon from their Estate Vineyard was my absolute favorite of their offerings. It's well structured with a nice finish and has the potential to age. They make a trio of Bordeaux blends, of which their Meritage, Allure stood out most strikingly. As with the other Williamson Wines, balance was the key.
The Williamson's and their staff are very welcoming and informative. Each step of the way they speak knowledgably about the wines and the bites they're paired with. Far from being stuffy, this information is provided in a conversational, easy to understand manner. Reasons for the pairings and interesting combinations are shared freely. What this does is open your eyes to food and wine pairings that go way beyond the red wine with meat thoughts of old and into the current climate where more wine drinkers are ready to experiment. Williamson Wines is providing a unique take on wine tasting and they're doing it downtown. This is definitely a stop to consider if you're out shopping, or waiting for your reservation time in town to arrive.
Please vote for Drink Dry Creek!
April 28, 2009
The Facts:
The 2005 Passalacqua Block 18 & 19 Cabernet Sauvignon is 100% varietal. The fruit is sourced from the aforementioned blocks of the TR Passalacqua Ranch in Dry Creek. This ranch is run by Tom Passalacqua, father of winery owner Jason. Production of this Cabernet was limited to 231 cases and it sells through the winery for $65. The 2006 vintage of this wine is the current release.
Gabe's Take:
During Passport there were many unique tasting opportunities. One of these, at Passalacqua, which really appealed to me was the chance to taste a three year vertical of this wine. Experiencing three years of a wine side by side allows you to do a host of things. Beyond deciding what you like better, there's lots of comparing to be done. You can see if a wine is consistent from year to year, how the vintage affected the wine, and what impact age has had. Tasting a vertical from a couple of specific blocks is really all I've just described and more. When a winemaker selects specific blocks of a vineyard to make a wine, he or she is telling you that those rows of grapes are truly distinct.
2004, 2005, & 2006 are the vintages of this wine I had the pleasure of tasting. Each of them is well made and showing quite nicely. The 2005 however is the one in the trio that knocks me out. Aromas of deep, dark berry and cedar fill the nose along with some touches of vanilla. Throughout the palate there is layer after layer of rich berry notes along with touches of black tea and olive, The finish has dark chocolate characteristics as well as emerging earth and touches of chicory and espresso.
While this wine is quite nice now, it's really a baby. If you get your hands on this 2005 gem from Passalacqua, my recommendation is to lay it down for about 5 years, more if you're really patient. You'll surely be rewarded. If you're going to drink it now, I suggest decanting it for a couple of hours. In any case this is a gorgeous wine as well as a tremendous expression of Cabernet Sauvignon from Dry Creek Valley. Tasting the vertical also showed that while there are vintage variations, it's a very consistent wine.
Please vote for Drink Dry Creek!
April 27, 2009
The Facts:
Frick Winery was established 1976 and is located at 23072 Walling Rd. Geyserville, CA 95441. Their Phone number is 707-857-1980. Frick opens  weekends only  12:00 PM-4:30 PM. They have 11 Acres under vine, and their total case production is 1,800.
Gabe's Take:
Don't make the same mistake I made. I've been travelling to Dry Creek Valley for 15 or so years and only just made it to Frick this year during Passport. Most galling is that I pretty much always visit Pedroncelli which is about a mile away. With that bit of personal embarrassment out of the way, I'm here to tell you that visiting Frick was one of the highlights of passport for me.
Every participating winery had their theme or slant for Passport. Bill Frick, who for all intents and purposes, is a one man operation (with some help), focused on wine and food pairings. In speaking to Bill it was clear, literally months of planning went into the pairings, and it really showed. Grenache Blanc and Viognier were the first two wine selections and they were matched up with a Tandoori Waldorf Salad. Each of the wines, delicious in its own right, matched quite well with the salad, which was a unique take on a classic. Cinsaut was one of my favorite wines of the day was set against Cambazola cheese on fig bread, accompanied by fresh strawberries. I was tempted not to move any further down the tasting line after getting my lips around that combination. Cinsaut is criminally under-appreciated in California, Bill Frick does an absolutely tremendous job with this grape and really shepherds it to bring out the lovely fruit strawberry characteristics it's known for. Both Grenache & Counoise were paired with shredded duck wrapped in flatbread. I enjoyed both wines but the Counoise really stood out and made me take notice. It was full flavored and delicate, weaving a fine balance; and really paired well with the duck. Carignane and C2 were wines sourced outside of Dry Creek Valley. They were consistent with the other food friendly, fruit filled, balanced wines I tasted at Frick. Syrah was the final Frick wine and it was paired with pork loin on a cacao corn chip. Both the pairing and the wine were amongst my favorites. The Syrah really stood out when it hit my palate. Black pepper and dark cherry notes are what I remember most.
My bottom line is that the Frick experience was sensational from top to bottom. Bill Frick is a gregarious, articulate, passionate host, driven to produce distinct food friendly wines. His take on the passport experience was well planned and executed. It may have taken me 15 years to finally get to his winery, but it won't take me very long to get back. I know that without a doubt I'll be compelled by his wine and hospitality to return on my very next visit. There are many unique tasting experiences in Dry Creek Valley, which is a huge part of the charm. Even amongst them, Frick stands out.
Please vote for Drink Dry Creek!
April 21, 2009
The Facts:
Trésor is Ferrari-Carano's proprietary Bordeaux style blend. Cabernet Sauvignon, Malbec, Merlot, Cabernet Franc, and Petit Verdot are all part of the mix. The wine was aged in barrel (26 months) and bottle (20 months) prior to being released. Vintage after vintage Trésor is one of Ferarri-Carano's benchmark wines and perhaps their ultimate expression of the five Bordeaux varietals.
Gabe's Take:
1998, was it really 11 years ago? I checked my calendar and it was. Controversial, maligned, these are both words often used by critics to describe the 1998 vintage. Every vintage has good, bad, and indifferent wines. The question is was 1998 as disappointing as the reactionary, sound byte craving media wanted everyone to believe? Personally I don't think so. Great wineries and winemakers produce good wines in tough vintages. Based on the 1998 Cabernet based wines I've had in the ensuing years, it's my contention that many of them simply needed more time than normal to resolve themselves. For the last few years I've revisited the 1998 Trésor quite a few times, it was always good, but I also felt it was still improving and headed for its peak. This week I pulled out a bottle, with a sneaking suspicion, in the back of my mind, that it might be at its peak now. Here's what I took from it.
The nose of the 1998 Trésor is still quite lively and fresh, possessing raspberry and blackberry notes, underscored by light oak notes. Throughout the persistent palate black cherry characteristics are the most prominent reference point. This wine is full flavored and brings to mind cherry pie. The finish, which is long enough to be noteworthy, has a ton of earth and subtler but emerging mineral notes as well as a wallop of black pepper. This is an impeccably balanced wine with excellent acidity.
Having had the 1998 Trésor on about a dozen occasions I'm happy to report that it's at the absolute peak of its power and elegance right now. I don't expect it to improve further but it'll drink well for about another year perhaps a little bit longer. If you have them, drink them, and enjoy a classic Dry Creek blend at the height of its charm.
Dave's Take:
I wish I had this wine on my radar a few years ago – I would have bought as much as my wife would allow. Black cherry is definitely the most prominent note; however, throw in plenty of earth and cigar box, a bit of black pepper and cardamom. Balanced and smooth as only a bit of age can bring and this wine is simply terrific.
This was a great bottle to age, but there is the rub. How do you know which wines to age and which you should you drink behind the wheel on the way home from the liquor store? "Honestly officer, I was only trying to maximize the youthful fruitiness of this wine" …why don't we leave this excuse to the "professionals" and wait until we get home. So here are a few clues on aging potential.
With red wines, high amounts of tannins are an excellent clue, increasing the chances that the wine will improve with age. Often Cabernets and Syrah will fall into this category. Low acidity red wines also do well such as Pinot Noir. Ironically, in white wines or rosés, high acidity will often take the place of the tannins in essence preserving the wine. Perhaps we will do a full article on this in the future, but I hope that these tips will suffice for now.
One last piece of advice, wines often go through a "dumb phase" where the wine becomes sort of muted. Flavors and aromas drop off. I experienced this twice while I was drinking the Trésor. The first time, perhaps an hour after we started drinking…we thought the bottle was done, but half an hour it was back. I tried it again 24 hours later and it was just so so. The next morning (yes before noon) I took a sip again and found it back in full force. Never forget that wine is a living entity within the glass. My wife didn't like me for the first 4-5 years, I guess I aged well …now I've peaked and she still likes me ….just wait until I turn to vinegar. "Honey, I'm home….."
Please vote for Drink Dry Creek!
April 16, 2009
The Facts:
Ferrari-Carano is perhaps best known for their Sonoma County Fumé Blanc which is a staple of restaurant wine lists, all over. But that wine, well known as it is only tells a small piece of the impressive Ferrari-Carano offerings. From well known blends, and county designate wines, to single vineyard offerings, Ferrari-Carano has wines with a wide array of intents and purposes. In the short term we're going to look at three of their more limited offerings. Also look for us to cover other wines from Ferrari-Carano on a go forward basis.
The 2007 Ferrari-Carano Petit Verdot is made from hand harvested fruit. This offering is all Dry Creek fruit and 100% Petit Verdot. This wine was aged in a combination of (35%) new French oak and (65%) older French and Hungarian oak barrels. A mere 462 cases of this selection were produced and it sells directly through the winery for $38.
Gabe's Take:
It's rare that a standalone Petit Verdot comes across my desk. Most often this varietal is used in Bordeaux style blends. So the relative scarcity of it, made me anticipate tasting this wine quite a bit. Dark fruit, mainly plum and blueberry dominate the nose. Hints of vanilla are present but they don't really make a forceful presence until later. The palate is a veritable explosion of continued black fruit, underpinned by solid spice components. Both black and white pepper are prominent on the palate. The finish shows some toasty oak notes, emerging earth, continued spice, a bit of pleasing, lip puckering tartness, hints of bacon fat, and more prominent vanilla. This Petit Verdot has a tannic structure that is both firm and elegant. Terrific acidity frames everything and keeps this wine in perfect balance.
What I like most about this wine is how well it combines rich, mouth-filling fruit and elegance. It's big, but it's restrained. It's elegant but it's also a little bit boisterous. Decanting this wine for about an hour is my recommendation. If you have the patience to lay this offering down for a few years I suspect short term aging (3-5 years) will only serve to enhance the already enticing earthy qualities. This is a wine worth making an extra effort to acquire.
Dave's Take:
There is absolutely nothing petite about this Petit Verdot. As Gabe said, the scarcity of this as a 100% varietal had me excited to try it from the onset. I wasn't disappointed. I liken this wine to a fat lady on a high wire – big, beautiful, and balanced.
The dark fruit, earth and toasted oak are again in my sweet spot. This definitely should age for best results, but I loved it now. I won't bore you by restating what Gabe had to say, our notes were essentially the same, instead I'd like to ponder a couple of questions. First, why don't wineries make more of this as a single varietal? Also, bacon fat?????? I know this is in here, as well as with many other wines, but where does it come from???? I like meat with my wine, but please. There must be a secret that is being held tight to the chest. All I can do is warn all pigs to stay as far from Dry Creek as possible.  Oh…and one more warning…this single varietal Petit Verdot will probably not be available forever, find it while you can, this one you won't regret.
Please vote for Drink Dry Creek!
April 15, 2009
The Facts:
Glenn Proctor who runs Puccioni Vineyards along with his wife is the fourth generation to grow grapes on the property. Before starting Puccioni Vineyards to showcase the fruit from his family vineyards, Glenn worked for wineries such as Glen Ellen, Benzinger, BV & Sterling, involving himself in many aspects of the grape growing and wine-making business
The 2006 Puccioni Vineyards Old Vine Zinfandel is sourced from two vineyards. One site is the Puccioni Vineyard which features 100 year old vines planted by Winemaker Glenn Proctor's Great Grandfather, over 100 years ago. The other site is the Buchignani Vineyard planted about 50 years ago by their cousins. 260 cases of the 2006 Zinfandel were produced. The suggested retail price is $28.
Gabe's Take:
The nose of this 2006 Old Vine Zinfandel is loaded with a quartet of aromatics. Cedar, cloves, allspice and vibrant berry jam notes explode from the glass upon pouring. Throughout the palate blackberry pie characteristics are prominent and mouth-filling, joined by earth, bramble and black cherry reference points. Dusty Baker's chocolate and an absolute avalanche of black pepper emerge on a long, layered and slightly lusty finish that beckons you back to the glass for another sip. Good acidity and firm but yielding tannins frame this well structured Zinfandel.
Several things stood out to me about the Puccioni Old Vine Zinfandel. It's accessible from the word go; but decanting and giving it some air really allows its charms to blossom and flavors to explode on your palate. Secondly, certain things on a wine label hold special meaning. For me, when I read Old Vine Zinfandel and Dry Creek Valley on the same label I tend to get excited. Having never had any wine from Puccioni Vineyards, before now, I was curious if it would live up to my label expectations. I'm happy to report that this wine is a textbook example of Old Vine Dry Creek Zin. Sometimes people will ask what Old Vine means, I wish I had a bottle of Puccioni to pour for each of them; it would be a lesson in a glass. Finally, while this wine is drinking quite well right now, I wouldn't be shy about laying it down for 5 years; it has the structure to age.
Please vote for Drink Dry Creek!
April 14, 2009
The Facts:
The Thumbprint Cellars 2005 Three Some is a blend of Merlot (57%), Cabernet Sauvignon (36%) and Cabernet Franc (7%). The Thumbprint Cellars Wines are made by Scott Lindstrom-Dake who also makes wine under the Kelley Creek Label. 333 cases of this Bordeaux style blend were made and the suggested retail price is $43.
Gabe's Take:
Pretty quickly now, I've become impressed with the wines that Scott Lindstrom-Dake is making, and releasing. They are distinct, while also simultaneously maintaining a connective thread of similarity that brands them with a house style. The collective tissue is that Scott's wines tend to be loaded with rich, big, bold fruit flavors, at the same time that they stay true to the varietals in question and keep a sense of balance and proportion.
Blackberries and clove are the dominant characteristics in the nose of the 2005 Three Some. Throughout the palate, huge, dark fruit notes are prominent and mouth-filling. All of that dark fruit, which is paralleled by copious quantities of classic Dry Creek Dust, provides a wickedly brooding feel to the core of this offering. The perfectly dry finish has plenty of earth, mineral notes, dark chocolate and lingering reminders of chicory, in what is a tremendous and memorable close. This wine is very well structured with firm tannins and good acid structure.
What struck me most about this wine is that while it is a true blend with each varietal shining, the Merlot shines just a little more than the other two varietals. It provides the structure that Merlot can when it's treated right and made into a serious wine. The 2005 Three Some from Thumbprint Cellars is delicious now, particularly with some air, however don't hesitate to lay it down for 7-11 years. If you do you'll be rewarded with a wine that is an even greater sum of its parts than it is today. Another offering, and another solid and impressive effort from Scott.
Please vote for Drink Dry Creek!
April 7, 2009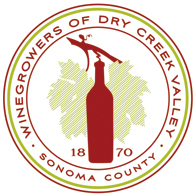 Passport to Dry Creek Valley, the annual, signature event of Dry Creek is just around the corner. Each year Passport is the last weekend in April. This year that means Saturday April 25Th and Sunday April 26Th. So grab a ticket, mark your calendar and meet us in Dry Creek Valley. If you do come, there are some things you can expect.
Of the 60+ wineries and 150 Growers in Dry Creek Valley, 45 will be offering up something out of the ordinary during Passport weekend. In some cases that means food, music or other forms of entertainment. Some Wineries will be busting out some special limited releases or Library Wines.
To add to the merriment this year, many of the Wineries will be outfitted with a special theme. These range from things like Motown Soul. New Orleans style Jazz Fest, a Jimmy Buffett style hideaway and many more. Full details of the different themes and offerings as well as a list of Wineries kicking things up a notch can be found at the Winegrowers of Dry Creek Valley. You can also use that website to purchase tickets to the event.
A two day Passport sells for $120. Tastings and other activities at each participating Winery runs from 11:00 AM through 4:30 PM during Passport weekend. Additionally each day there are several options if you want to get an earlier start. Two vineyard tours are available each day and they start in their respective vineyards at 9:30 AM. Check the brochure on the Wingrowers website for specific details.
As with any large scale Wine event, take your time and have fun. Make sure you drink responsibly. Part of that is making sure you stay hydrated by consuming lots of water. Having been to lots of large scale wine events and festivals I can tell you it's more fun when you don't rush yourself. Whatever Winery you're at, enjoy it, smell the roses. Don't spend your weekend worrying about the next place you want to run off too, and enjoy where you are, one iota less. Dry Creek Valley is a wonderful place with a tremendous amount of great wine, and these wineries are really going to pull out the red carpet during passport weekend, so do yourself a favor and make sure you ejnoy it.
For our part we're excited to be attending Passport to Dry Creek Valley. Look for us to offer coverage of it during the weekend, as well as a full wrapup after the fact. We hope to see you there!
Please vote for Drink Dry Creek!
April 5, 2009
The Facts:
The 2006 Truett-Hurst Burning Man Petite Sirah is 95% varietal, with 5% Zinfandel blended in. This wine was aged in French (60%) and American (40%) oak for 12 months. The fruit was sourced in the North Coast appellation. An even 1,000 cases of this Petite Sirah were produced and the suggested retail price is $33.
Gabe's Take:
I've been a fan of Truett-Hurst Winery since last fall when I tasted and reviewed their wonderful debut Zinfandel releases. Almost every time I drink Petite Sirah I'm reminded that I should indulge it in more often. Taking that into account along with how strong I felt about the other wines from Truett-Hurst I'd had, I was thrilled to taste their take on it. The fruit for this wine isn't from Dry Creek Valley, however, Truett-Hurst is very much a Dry Creek producer and thus this falls well within the scope of our mission.
This Petite Sirah is definitely young and was pretty tight out of the bottle. So right off the bat, my recommendation is to decant it for a couple of hours if you can. Once it came around, the nose was filled with classic Petite Sirah aromas odd dark plum and violet. Throughout the palate black fruit notes abound. Blackberries, blueberries and continued plum are joined by black pepper and subtle but present hints of nutmeg. The finish has some earth, but is dominated by the dusty dark chocolate that comes out in full force once this wine is fully open. This wine has tremendous structure which is buoyed by excellent acidity. Fire up your grill, and cook a steak to pair with this big, beautiful wine.
This wine is delicious now, but its ability to age is what impresses me most. Lay it down for a decade if you have the patience, and it'll sing and possibly dance for you. I'm not sure if this wines name has anything to do with the Burning Man Festival but my advice is to being a couple of bottles to the 2019 edition. This is a classic example of a dry, structured Petite Sirah.
Dave's Take:
Where there's smoke there's fire, and this leads me to believe that Truett-Hurst is one great winery. The 2006 Burning Man Petite Sirah is outstanding. Gabe's description is dead on, although I was also getting some brighter cherry fruit, as well as a touch of burnt coconut. I loved the earthy dusty chocolate thing that will surely enhance as the years roll by…. Now the challenge is not to drink it. Yes… this will truly be a challenge.
This winery is a certified Biodynamic® farm which means that it follows strict standards to enrich the soil as well as the prohibited use of pesticides, herbicides, chemical fertilizers, etc. Judging by the quality of this wine I wish more wineries would take these measures. I think it's just a matter of time.  The truth is that I can't say that this farming concept definitely makes the wine better, but I can say that to farm this way takes a greater level of care….this absolutely shows in the wine.
So what have we learned today? If you are like Simon Cowell expecting your wine to sing and dance for you (thanks Gabe) this one will pass the judges test. And what would this wine sing you ask? I heard it through the grapevine?…no, too obvious. Well if it's not too self indulgent, may I request a hunk a hunk of burning love? This one's a classic.
Please vote for Drink Dry Creek!
April 5, 2009
The Facts:
This is the third in a series of wines we're looking at from Vintner Scott Lindstrom-Dake, over a short period of time. He's been making wines since 1995 and is responsible for those under the Kelley Creek and Thumbprint Cellars labels. The 2005 Dry Creek Valley Merlot is 100% varietal. 3,000 cases of this Merlot were produced and the suggested retail price is $24.
Gabe's Take:
I love Merlot, when it's well made. The trouble is that there is an overwhelming amount of sub-par Merlot in the marketplace. So you either need to have some favorites, or do your homework, to make sure you get solid Merlot. Having thoroughly enjoyed the previous wines I've tasted that were crafted by Scott Lindstrom-Dake, I was really curious to open the Kelley Creek Merlot and see what was doing under the cork.
This Merlot has an enormous nose. Ripe plum, cherry, vanilla and blueberry aromas are both prominent and incredibly enticing. Throughout the palate there is a host of big (yet balanced), raspberry, kirsch liqueur, black pepper and subtle tea notes. These all lead to an above average finish that features, dusty bakers chocolate, earth and lingering mineral notes. This Merlot has firm, but yielding tannins and excellent acidity. Match this wine with Braised Short Ribs, Fettuccine in Bolognese Sauce or a slice of Pepperoni Pizza.
What I like most about this wine is that it tastes like Merlot. That's the trouble with many of the poor ones on the shelf, they taste like anything but Merlot. I'm also impressed that this wine is big, fruit-driven and intense, while also maintaining a sense of proportion and balance. Add this to the list of impressive wines I've had, created by the deft hand of Scott Lindstrom-Dake. There is no question Dave and I will both continue to taste and report on the wines Scott makes going forward.
It's important to note that while the suggested retail price for this offering is $24, I've seen it on the shelf for as little as $10. It's worth $24, If you find it for $10 you should have a getaway car gassed up and ready to go.
Please vote for Drink Dry Creek!