September 29, 2009
The Facts:
Ridge Vineyards has two facilities. One is on the Santa Cruz Mountains and the other on Lytton Springs Road in Healdsburg. They're open from 11:00 AM to 4:00 PM daily with some extended hours in summer months. Walk in tastings are available but groups of 8 or more are required to make an advance reservation.
Gabe's Take:
I've found the Ridge wines to be solid and dependable over the years, to say the least. However it had been awhile since I'd stopped in to their tasting room for no other reason than the age old tale of too many wineries, too little time. On my most recent trip though I felt it was time to find out, specifically, what they had going on these days, and how the current releases stack up.
The things that have impressed me about the Ridge Wines in the past are the purity of fruit and restraint with which they are made. Across the board these are wines meant to age for a pretty long while. One of the advantages of visiting either tasting room is the ability to taste wines produced from fruit in many regions of the state; Dry Creek Valley of course plays a significant role in the Ridge portfolio.
There are essentially 3 tasting options at Ridge depending on the day of the week. There are always two wines available to taste without charge. For a fee of $5 you can taste approximately 4 other wines as well. On weekends and occasional other days for $20 you can taste each of those wines as well as their Chardonnay and Monte Bello.
While $20 is a bit more than most tasting fees in Dry Creek Valley it's worth it just to taste the Monte Bello. This blend is a classic wine and the flagship of Ridge Vineyards. Its legendary age worthiness is a well deserved reputation. The 2006 Lytton Springs and 2007 East Bench Zinfandel were two of three Dry Creek selections being poured when I stopped by. The Lytton Springs is 80% Zinfandel with Petite Sirah (16%) and Carignane (4%) in the mix. This wine which is also clearly age worthy is a bargain at $36. It's going to improve significantly with time, though it is delicious now. The East Bench Zinfandel has a retail of $30. While this wine will lay down for several years as well it's one of the most approachable wines in the Ridge portfolio right now. Both of these selections express classic Dry Creek elements associated with Zinfandel made in more of a classic style.
Outside of Monte Bello the 2007 Carignane (100% varietal BTW) was one of my other favorites that I tasted on this trip to Ridge. This selection is from Buchignani Ranch in Dry Creek Valley. For $28 it represents both a well made wine and an excellent representation of a varietal that is not bottled as a stand alone often enough for my taste.
As I said above I find Ridge Vineyards to be a great place to taste for several reasons. The ability to taste Dry Creek Wines side by side with offerings Ridge makes from around the state is one of them. Ridge's library of older selections is another. But at the end of the day the main reason to stop in at Ridge Vineyards in Dry Creek Valley is that they consistently make excellent, fairly priced, age-worthy wines.
Please vote for Drink Dry Creek!
September 26, 2009
The Facts:
Foggy Bridge is an Urban Winery producing approximately 8,000 cases per year, in several tiers. The 2007 Foggy Bridge Zinfandel is a made from fruit sourced in several appellations. Dry Creek Valley at 61% clocks in with the biggest contribution, followed by Alexander Valley (21%), and Russian River (17%). In addition to Zinfandel (87%) this offering includes Petite Sirah (13%). Oak aging was accomplished over 9 months in a combination of American (73%) and French (27%) barrels; 39% of them were new. 500 cases of this Sonoma Valley Cuvee were produced and the suggested retail price is $26.
Gabe's Take:
I first became aware of Foggy Bridge Winery during the 2009 Wine Blogger's Conference in Santa Rosa. A couple of folks were there pouring their Chardonnay during the Live Blogging Session. Their urban winery story seemed interesting, but more importantly the wine left an impression. I made a note (literally) to see what some of their other wines were like. So that brings me to the 2007 Zinfandel which makes the cut here at Drink Dry Creek by having 61% Dry Creek Valley fruit.
Dark, fresh berry pie fruit and a layer of crème fraîche fill the nose of the Sonoma County Zinfandel. There's lots of dark fruit to be had throughout the palate, along with more than a hint of chocolate Bosco sauce. Gentle hints of mint and eucalyptus emerge around mid-palate and continue forward along with pie crust notes. This is a very smooth Zinfandel that features some tart fruit on the finish, particularly cranberry. These are underscored by white pepper characteristics.
The combination of fruit from three appellations comes together to create a Zinfandel with a varied and layered flavor profile. Alcohol is modest at under 14% and that shines through. It's interesting to note that Dry Creek Vineyard was involved in the production of this wine. It stands apart and drinks differently than anything in their portfolio.
Dave's Take:
Foggy Bridge Winery is new to me and honestly, I didn't have high hopes because of their unique and somewhat touristy location. Upon my first whiff I knew that this was not just a place for out-of-towners, but a winery that knowledgeable wine lovers may come for a taste of wine country.
The nose is filled with deep layers of blackberries and raspberries, plum and black currant, even a bit of anise. All the berry fruit leads the palate in a symphony of jammy goodness. All this fruit is a little brighter than I expected based upon the aromas. Baker's chocolate, earth, and spice linger a bit and fade out on a decent finish.
All in all this is a solid Zin displaying some of the charm I've come to expect from a good Dry Creek Zin. Although it weighs in with only 61% DCV fruit I find that it does show its Dry Creek roots. Delicious on its own, this would be soooooooo good with pasta in a tomato based sauce or something off the BBQ.Foggy Bridge is an ironic name because it's totally clear to me. Some fine wine is being crafted here. I'm curious to try some of their other selections. Hopefully they will snatch more fruit from Dry Creek Valley next year – perhaps enough to make it 100% from this appellation.  
Please vote for Drink Dry Creek!
September 25, 2009
The Facts:
In 2007 Debra Mathy purchased Dutcher Crossing Winery. Since that time she has been transitioning its direction to her vision. That vision includes small lot wines. These are crafted from a combination of estate and sourced fruit. The sourced fruit comes largely from long term family growers.
Gabe's Take:
In addition to ZinTopia, my recent trip to Dry Creek Valley was punctuated by attending Harvest Dinner at Debra Mathy's home. I was thrilled that Debra invited me and quite curious as to what the event would be like in size, scope and overall tone. In addition to being a harvest celebration this dinner served as a way for Debra and winemaker Kerry Damskey to fill in guests about the Rhone program that Dutcher Crossing is going to launch. It seems like Kerry's golden hand is all over Dry Creek, so meeting him was something I'd looked forward to. He didn't disappoint, his personality matches his wines; outgoing, a bit boisterous, a heck of a lot of fun, warm, engaging, and dedicated to the task at hand with laser like focus.
There were somewhere around 30 guests at Debra's for this dinner and it was an interesting group to be sure. In addition to growers like Tom Passalacqua and the Costello's one of Debra's brothers and sister in law were also in attendance. A number of Dutcher Crossing Wine Club members attended too. I got to know a handful of these folks over the course of the evening and it was really interesting and inspiring to hear what they had to say. The wine club members I spoke to had traveled a long distance to be at this dinner. What they conveyed is their excitement for the Dutcher Crossing wines, but also an incredible sense of warmth for both Debra and the atmosphere she has created in the tasting room and for the overall winery experience. And while they are wine club members they would be better described as friends of Debra and her winery. Such is the affection that extends in both directions.
Throughout the evening Kerry spoke several times and explained that the new plantings at Dutcher Crossing, which include Grenache and Carignane, will be used for a Rhone style blend. This is based on wines that Debra, as well as Kerry and his wife gravitate towards and fill their cellars with. As the evening progressed we tasted wines from Dutcher Crossing and also had opportunity to try an example of a Rhone blend that Debra & Kerry have in mind as a reference point. It was  tasty wine and my take is that a Rhone style blend will be an excellent complement to the wines already in the portfolio.
Dinner prepared by Gia Passalacqua (a cousin of Tom's BTW) was uniformly delicious; whether it was the roasted potatoes with parsley pesto, the marinated, grilled lamb skewers or a host of other items that were served throughout the evening. In addition to being delicious and varied it was an excellent match for the wines. This is terrific evidence that while by and large the Dutcher Crossing wines are full flavored and expressive, they are also balanced and built to enjoy with a meal.
Dutcher Crossing makes some incredibly tasty wines. If they're not on your radar they should be. Pick up a bottle or better yet stop by the tasting room where Debra can very often be found greeting guests and exuding her charm and love for the wines and people. If you do, you'll probably become friends with her and with some luck you may get a dinner invitation too.
Please vote for Drink Dry Creek!
September 21, 2009
The Facts:
On Saturday September 19, 2009 The Winegrowers of Dry Creek Valley hosted the first annual ZinTopia at Lake Sonoma, Warm Springs Recreation Area, 3333 Skaggs Spring Road. It is located at the northern end of scenic Dry Creek Valley in Sonoma County. Tickets were $75.
Gabe's Take:
I'd been looking forward to attending ZinTopia since it was first announced this summer. And while I'd heard plenty about which wineries would be there and other festival details I was curious to see how it all played out.
The first nod goes to Mother Nature for providing excellent weather. Initial forecasts called for triple digits but it wasn't nearly that warm when the event started and as it progressed a lovely breeze really made it a comfortable setting to taste wine, listen to music and munch on some tasty morsels. ZinTopia was a tented event and that worked very well to protect all the attendees from the sun. Speaking of attendees I took the time to speak to quite a few folks at random and everyone I ran across was having an excellent time.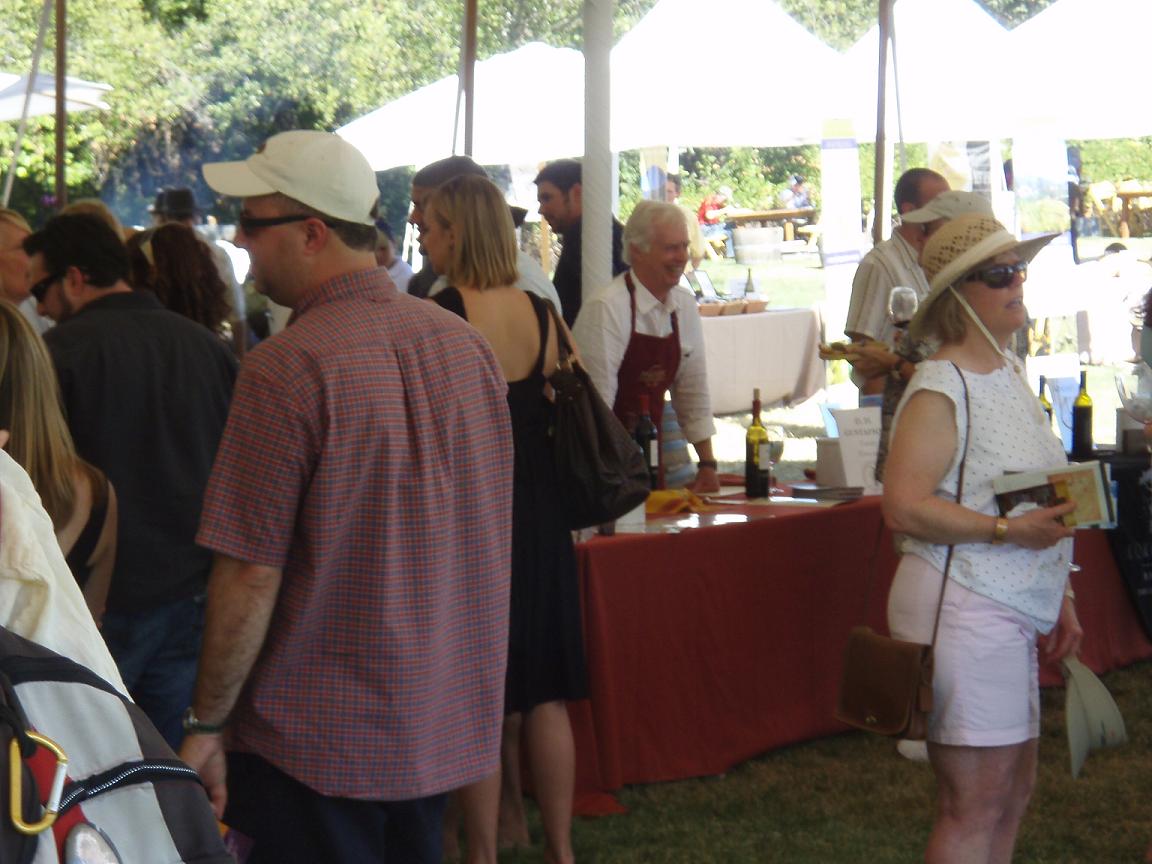 The inner circumference of the tent was setup with Sauvignon Blanc in the lead and the uncommon varietals right after them. All the Zinfandel was poured from the tables in the middle section. Producers were arranged in alphabetical order, making it easy to find your favorite or seek out one or more you were dying to try. At each end of the tent the caterer was setup and preparing fresh food on the spot. Pizza and fresh cooked sliders were my favorite snacks of the day.
The far end of the tent led to the local artisan market. Bakers, farmers, candy makers and the like showed off the wares they regularly make and sell in the local Dry Creek community. Smaller tents on either side created a pathway which led to where the Soulshine Blues Band belted out tunes the entire afternoon and into the evening. The bands location was key to me. You could grab a taste of wine and some food, hunker down on one of the many picnic tables and listen to some music. And when you made your way back to the tent, the band was in the distance, allowing folks under the tent to hear each other and the winemakers.
Of course there was a ton of delicious Dry Creek Valley wine to be had. Since I had all day, literally, I took my time and tasted (mostly) in the proper order. Bill Frick's Viognier was my white standout of the day. I continue to be impressed with the wines he's making and this crisp offering was no exception. Many of the others were also excellent, this one however hit the note I was seeking that afternoon.
Amongst the reds it was great to see a lot of wineries pouring multiple Zinfandels. Some took the opportunity to show off completely different expressions of Zinfandel from multiple vineyards. Others showcased consecutive vintages of the same wine. In either case it allowed die-hard Zin fans and newcomers alike to behold the many faces and styles of this signature grape. Malbec and Petite Sirah were amongst the non-Zinfandel reds that made an appearance. These stood witness to show the diversity available in Dry Creek Valley outside of the stalwart Zinfandel umbrella.
Kudos to the Winegrowers for their skill in organizing this first time event so well. So Often events are rife with snafus in their launch year; not surprising with all the pieces that have to fall together. From my vantage point, as I circulated throughout ZinTopia for the entire 5 hours, it seemed to go off without a hitch. I was even impressed with the portable restrooms that were provided. A far cry from the normal port-a-potty, these had a full sinks, air-conditioning, and other amenities. Taking the red eye back to the east coast it occurred to me they were larger, cleaner and just better than even an airplane restroom. I imagine they were probably expensive but it was touches like that which gave the event an extra leg up.
This was a well run event that promises to become even more impressive in upcoming years, as it grows and hopefully becomes a Harvest mainstay.
Please vote for Drink Dry Creek!
September 16, 2009
The Facts:
The 2007 Dutcher Crossing Maple Vineyard "Bill's Block" Zinfandel is sourced from a specific block within Tom & Tina Maple's vineyard. This offering 100% Maple fruit and a blend of Zinfandel (86.5%), Petite Sirah (4.5%), Carignane (4.5%), Mataro (4.5%) and a tiny amount of Alicante Bouchet. Oak aging was accomplished over 10 months in French barrels; 40% were new. Only 139 cases of this small production offering were produced and the suggested retail price is $49.
Gabe's Take:
This past spring Dave and I had the opportunity to tour the Maple Vineyard with Tina which was an unforgettable and terrific experience. I recall very clearly when she pointed out Bill's Block as we passed through it. It's an afternoon that's likely to always be in my head when I taste any wine sourced from their legendary property, but specifically when tasting one from Bill's Block.
The nose of this Zinfandel brings to mind berry jam from the word go. The aromas are immense, intense, and they explode from the glass ferociously with a host of dark berry fruit and a touch of eucalyptus. Raspberry leads the palate followed by plum sauce notes and tons of other dark, sweet fruit elements. Three L's tell the story of the finish; layered, lush and lengthy. Black pepper, cherry liqueur and blackberry pie are all part of the mix. Everything about this wine is big and bold, but it's framed with good acidity. Slow cooked pulled pork topped with mango relish would be a tremendous match for this wine as would other robust, full flavored foods.
If you're a fan of bigger Zins with huge fruit, balanced by elegance and finesse this is quite definitely the wine for you. While I'm confident this will age nicely for several years I think its ridiculously delicious now and my recommendation is to drink the one its young, brash and unbridled youth. This Maple Vineyard designate wine from Dutcher Crossing is a classic wine from an excellent vintage year for Zinfandel.
Please vote for Drink Dry Creek!
September 13, 2009
The Facts:
Optima Wine Cellars produces 5,000 cases annually, focusing on Cabernet Sauvignon, Zinfandel, Petite Sirah, Chardonnay, and Zinfandel Port. Plans are afoot to start including Gewurztraminer sometime in the next few vintages. Winemaker and co-owner (along with his wife) Mike Duffy has a long history that includes stops at Napa Valley stalwart Trefethen and Filed Stone in Alexander Valley. The 2006 Optima Dry Creek Valley Petite Sirah is their third vintage of the varietal. The fruit was sourced on the western side of Dry Creek Valley, 200 feet above sea level. In addition to Petite Sirah (92%) this offering has Zinfandel (8%) blended in. Oak aging was accomplished over 15 months in a combination of new and one year old small French barrels. The suggested retail price for this wine is $32.
Gabe's Take:
As I've detailed previously the very thought of Petite Sirah gets me a little excited. Field Stone, one of Mike Duffy's previous career stops has made some amazing Petites over the years. Add in the fact that I consider Dry Creek Valley to be one of Petite Sirahs very best and most natural homes and you can imagine that my anticipation was building as I got ready to taste this selection from Optima.
The nose of the Petite Sirah is just stuffed with aromas that are as dark and brooding as the unlit sky at midnight; black plum, blueberry, black raspberry and black cherry each make their presence known.  Taking the first sip moments after popping the cork this Petite is, not surprisingly, a bit tight. Giving it an hour or so in the decanter is sufficient to let its charms emerge. Blackberry fruit is dominant through the palate and wrapped in dark chocolate notes with fruitcake spice underpinning it all. Subtle hints of bacon fat creep in around mid-palate and continue forward. All the flavor elements carry on with vary degrees of intensity into the persistent finish which is also quite pleasingly and rather intensely dry. Fine, firm tannic structure and excellent acidity provide an tremendous framework for this Petite Sirah.
This is a classic example of Dry Creek Valley Petite Sirah. It has the structure to promise a long, prosperous, and ever evolving shelf life. I wouldn't hesitate to lay this wine down for 10-15 years. If you can wait that long you'll have a very different wine, but an equally delicious and interesting one in my estimation. If you're going to drink this over the next couple of years, please decant it so you get the most out of it. I also recommend pairing it with braised short ribs, a heavily marbled steak from your grill or something else equally substantial.
Please vote for Drink Dry Creek!
September 12, 2009
The Facts:
Manzanita Creek was founded by brothers Jack & William Salerno. The winery is located in Healdsburg in an industrial complex. They're open there for tastings Wednesday through Saturday or by appointment. They produce about 6 varietals and a total of approximately 3,000 cases per year. Amongst their offerings are several vineyard designated Zinfandels and other wines. The 2003 Manzanita Creek Old Vines Petite Sirah is such a designated wine. It's produced from Hale's Vineyard which sits at about 200 feet above sea level. A mere 100 cases of this Petite Sirah were produced. The retail price for this offering at release was approximately $40.
Gabe's Take:
There's a certain level of anticipation for me when I approach a Petite Sirah that is somehow different than when I approach other wines. It's not that Petite is my absolute favorite varietal, though it is up there, but there is something intriguing. Perhaps it's the dark, brooding and intense nature Petite Sirah so often embodies. Or it could be that it's a bit of an underdog, appearing on way too few producers' lists of offerings. Regardless, it gets me excited.  Dave was headed over the other day so we could taste through some wines for potential joint reviews and I decided to pull this one from Manzanita Creek out of the cellar. A few years back I'd visited with Jack at the winery (highly recommended BTW) and picked up some wines.
Classic Petite Sirah characteristics including blueberry, plum, violet and vanilla fill the nose of this 2003 offering. Manzanita Creek is known for big wines, they'll happily tell you that whether you ask or not. This Petite Sirah is no exception to their style of big and brawny wines. The palate is full and mouth-filling. It's loaded with dark and heavy fruit flavors that hang in your mouth, almost daring you not to be impressed with their intensity. Cranberry notes represent one of the handful of lighter fruit characteristics that underpin all the lovely darkness, providing a counterbalance. Earth, chicory and dusty unsweetened cocoa make up the finish which has good length. As I mentioned this wine is big and bold but does have good acidic structure. The tannins are firm and drying. Dave asked me what I thought after we'd been sipping this for awhile. I said "I think I need a steak." I stand by that, this is a classic to match with red meat.
This Petite Sirah is nice now, but it seems to be in a bit of a transitional phase. I suspect that this selection will be even better in about 2 more years. The tannins should soften a bit more with the earth, chicory etc becoming more prominent. If you have this in your cellar, make an appointment to drink it in 2011 or 2012.
Dave's Take:
I always look forward to drinking wine with Gabe, but in particular when he tells me he's going to pull something from his cellar. I already knew this wine had a little bit more age than you would find on the shelf and Gabe liked this enough to buy it at the winery. He didn't need to ask me twice to take the trip up the mountain – I am so glad I did.
The first thing that struck me was the wonderfully deep garnet hue. Just looking at it in the glass was filling me with anticipation. This aromatic wine filled my nose with a rush of blackberries, plum, and cassis, vanilla and there was a touch of a floral thing going on (although that was a little harder to nail down). This is a full bodied wine that truly delivers. The palate is loaded with rich dark stone fruit, cranberries, dark cherry, earth, bakers chocolate, and dried leaves. This is a big wine that needs a big steak to go with it – something in the order of a brontosaurus burger, but I love it. This is well structured with lots of brighter fruit still left. I agree with Gabe that this is not at its best yet, it will be amazing in a couple of years perhaps a little longer than that. As I've said too often before, I am a real sucker for those deeper darker earthy flavors that only really come out in the aging process.
The bottom line is that this is a terrific wine, very enjoyable now, will keep for a few years, and if you crack a bottle Gabe and I will likely show up on your doorstep. How can you complain about that? (Please don't answer). Maybe if I find a bottle of this I can convince Gabe to come visit "down below".
Please vote for Drink Dry Creek!
September 8, 2009
The Facts:
Forth Vineyards & Winery has been producing wine in Dry Creek Valley since 1998. Jann and Gerry Forth have 10 acres under vine; all organically farmed. They also source some fruit from friends and neighbors. In total they make approximately 2,400 cases of wine each year. The 2007 Forth Vineyards Rosé of Syrah is produced using estate fruit from la Rousse vineyard. Approximately 100 cases of this vintage were released and the suggested retail price is $15.
Gabe's Take:
With September here, prime Rosé drinking season is coming to a close all too quickly. I don't shy away from Rosé in the cooler months, but it's not quite the same experience as enjoying it with some heat in the air. With that in mind I took the sunshine and nice weather of Labor Day as a cue to chill some down.
The Forth Vineyards Rosé is quite a bit darker in hue than the average Rosé; certainly significantly more so than Provencal counterparts. Cherry notes are quite prominent on the nose and underscored by gentle little hints of mushroom. The fruit throughout the palate of this Rosé is lively, bright and full flavored. Continued cherry is joined by zingy raspberry. A savory element kicks in mid-palate and continues through the finish, which lingers and beckons you back for more. This Rosé has fine acidity and will drink equally well on its own or paired with food.
What I've found in general from the wines made by Forth Vineyards are offerings that balance full flavor and proportion. This selection continues that mission. I found the Forth Rosé to be a wine that simply demands attention and is so delicious it's hard to stop drinking it. Alas, eventually the bottle is empty and you have no choice. I suggest consuming this over the next year to get the most out of the fresh, eager, and charming fruit this Rosé offers.
Please vote for Drink Dry Creek!
September 3, 2009
The Facts:
The 2007 Ferrari-Carano Siena is a blend of fruit from three of the wineries vineyards. In addition to Dry Creek Valley, fruit also comes from Alexander Valley and Russian River. Siena is a blend of Sangiovese (78%) and Malbec (22%). Oak aging was accomplished over 12 months in a combination of new Hungarian puncheon's (20%) and older French barrels (80%). This release saw 6 additional months of bottle aging prior to release. The suggested retail price for this blend is $24.
Gabe's Take:
I'm surprised Sangiovese hasn't made more of a foothold in California. The number of well made examples has increased, to be sure, but I really thought it would be a bigger player by now. This offering from Ferrari-Carano is officially a blend, but with more than 75% Sangiovese it could legally have had a varietal label.
Baked berry aromas fill the nose along with hints of baker's spice. Cherry dominates the palate but it's joined by a host of other darker berry fruit to form a juicy, rich and full flavored core. Black Raspberry notes are a standout along with excellent spice elements such as white pepper, cinnamon and hints of nutmeg. Sour cherry characteristics emerge on the finish along with earth notes that emerge as Siena opens up and evolves. This wine has excellent acidity and will pair tremendously well with food. Just about anything with red sauce on it will work nicely, as will hard cheeses.
With all the varietals grown in Italy, Sangiovese is the workhorse. It's responsible for a great percentage of the everyday wines, as well as some of the very best wines. In this Sonoma County blend it works well in partnership. The Malbec brings some brighter fruit characteristics that really helps the mid-palate of the 2007 Siena pop with juicy flavor. While the retail on this wine is $24 it's often available for closer to $18, making it a very nice value. The fact that it'll pair with a wide variety of foods makes it an excellent choice to have on hand for a multitude of occasions.
Please vote for Drink Dry Creek!
September 2, 2009
The Facts:
Preston of Dry Creek is one of an increasing number of certified Organic Wineries in Dry Creek Valley. Starting with their purchase of 40 acres of prune and pear Orchards in 1973 Lou and Susan Preston have taken their Winery through many changes. Production size peaked in the late 80's at around 30,000 cases. In 2001 they switched gears and reestablished themselves as a family farm and winery producing 8,000 cases of estate wine. Preston of Dry Creek, Winery and Vineyards is located at 9282 West Dry Creek Road in Healdsburg. They're open daily from 11:00 AM to 4:30 PM.
Gabe's Take:
As much as any winery, Preston is a classic Dry Creek Valley destination. Getting there is easy, but the long road they're at the end of makes them feel like they're much further off the beaten path than they really are. Once there it's clear this isn't just any Winery and Tasting room. They're a working farm and it shows pretty much everywhere you look. Whether it's the fresh vegetables on the table outside before you walk in or the just baked bread you notice someone devouring; Preston of Dry Creek has a homey feel.
After settling in and making my way to the tasting counter a look at the wine menu reminded me that equal (if not more) attention is given to some lesser seen varietals. It's Dry Creek Valley, so of course there is a Zinfandel to be had; but there's also Grenache Blanc, Carignane, Barbera and a handful of Rhone inspired blends. If you stop by on a Sunday you'll get to taste and perhaps purchase a jug of Guadagni Red. This wine which comes in a 3 Liter Jug is a tribute to their former neighbor Jim Guadagni. While the wines are generally very tasty and well made a couple that stood out to me on my recent visit were:
2007 Grenache Blanc – This is a lovely wine, crisp and dry with spice notes leading the refreshing flavor charge. 2007 marks their debut vintage for this varietal.
2007 Barbera– There is leather on the nose of this wine along with some blueberry. Dry, tart blueberry is prominent through the mouth-coating palate. Sour black cherry emerges on the finish. This Barbera has tremendous acidity and overall elements of fruit that are both dry and juicy. Clearly this is a selection that will shine even more with food.
2006 Petite Sirah– Classic Petite nose of dark plum and blueberry. Boysenberry, blackberry and a touch of cassis are evident through the palate. Spice characteristics emerge mid-palate and continue through the lengthy finish. Leather notes are present throughout. As with many Petite Sirah's this selection belies its name and is a pretty big (but balanced) wine.
Preston of Dry Creek has picnic facilities available and they welcome you to sit down and have lunch or a snack there during normal business hours. The weather and what you're consuming are the best guides to which of their wines you should pair your picnic with. There is something about stopping and spending time at Preston that is quintessentially Dry Creek Valley. Perhaps it's the rustic charm of the tasting room, maybe it's the delicious fresh bread, it could be the incredibly welcoming atmosphere. More than likely it's all of these things and then some; particularly the wine of course. If you've been to Dry Creek Valley and haven't been to Preston yet, I suggest making it a priority on your next trip. You'll leave smiling, probably with some tasty wine under your arm.
Please vote for Drink Dry Creek!