October 29, 2009
The Facts:
Forchini Vineyards & Winery made their first commercial vintage in 1996. Being a Dry Creek Winery it's no surprise that it was 426 cases of Zinfandel that represented that first release. Prior to that they had long been growers in the valley. Today they produce 6 different wines and a total of approximately 3,000 cases annually. The Forchini 2006 BeauSierra Bordeaux Style Blend combines Cabernet Sauvignon (40%), Cabernet Franc (28%), Petite Verdot (12%) and Carignane (20%). This wine was barrel aged over 18 months in a combination of neutral French and American oak. 414 cases of this wine were produced and the suggested retail price is $20.
Gabe's Take:
I'm always intrigued when approaching a blended wine that I haven't had before. It's forever fascinating when I taste the blends in question to discover if the pieces come together to form something greater than the sum of those parts or if one element outshines the rest. With those thoughts in mind I tasted BeauSierra for the first time
The dark and brooding nose of this Bordeaux inspired blend is lead by leather and dark fruits such as plum, blueberry, and blackberry. Those notes also echo through the palate as black fruit notes dominate along with plenty of spice; black pepper is particularly prominent. Baker's chocolate characteristics kick in around mid-palate and continue forward from that point. Earth and light espresso emerges on the finish. This wine has firm but yielding tannins and excellent acidity.
This offering from Forchini is a classic food wine. Sure you could drink it on its own, but you'd be missing a bigger and better experience. Paired with the right foods, (just about anything with red sauce is a safe bet) this offering really comes into its own at a higher level. I love the balance of this selection and find that each of the varietals really blends in to form a unified and cohesive wine. BeauSierra has the structure for positive evolution under proper storage conditions. I wouldn't hesitate to lay it down for 6-7 years. For $20 this wine over delivers on its price point in a big way.
Please vote for Drink Dry Creek! 
October 22, 2009
The Facts:
The 2005 Orgaz Zin Zinfandel Port is composed entirely from Dry Creek Valley fruit. This offering is made of all Zinfandel and fortified with aged brandy. Barrel aging occurred over 13 months in French oak. 180 cases of 500 ml bottles were produced. The suggested retail price for this wine is $26.
Optima Wine Cellars produces 5,000 cases annually, focusing on Cabernet Sauvignon, Zinfandel, Petite Sirah, Chardonnay, and Zinfandel Port. Plans are afoot to start including Gewurztraminer sometime in the next few vintages. Winemaker and co-owner (along with his wife) Mike Duffy has a long history that includes stops at Napa Valley stalwart Trefethen and Field Stone in Alexander Valley.
Gabe's Take:
Blueberry, black fig and toasty oak nose fill the nose of this Zinfandel Port. The palate is loaded with rich, dark, fruit flavors. Black raspberry, plum, blueberry and blackberry dominate. An undercurrent of chocolate sauce underpins everything along with flourishes of molasses, brown sugar and hints of black pepper. The long and layered finish continues the avalanche of sweet, dark fruit. This offering echoes on the tongue and the back of the throat for a nice long time.
The balance and lengthy finish are what most impress me about this wine. Way too often New World Ports are out of whack. This example from Optima Wine Cellars is anything but. The 2004 Orgaz Zin is loaded with big, dark, fruit flavors but it's also layered and elegant. From a practical standpoint I'm also a big fan of the dessert wines in 500 ml bottles. This has always struck me as a near perfect size; so a couple of points for that too. If you like either Port or Zinfandel, this is a wine well worth a special effort to acquire. It wouldn't hurt to have some dark chocolate on hand to pair with it either.
Please vote for Drink Dry Creek! 
October 18, 2009
The Facts:
Michel-Schlumberger is best known for their production of Bordeaux varietals.  Their wines are crafted from organically grown grapes. The goal at Michel-Schlumberger is to allow the fruit to shine through and speak of its place of origin, Dry Creek Valley. More specifically with bench land, hillside and mountain vineyards, as part of the estate they strive to highlight a sense of place far more specific than simply Dry Creek Valley. The 2004 Deux Terres Cabernet Sauvignon is an Estate Bottled selection. This offering is a blend of Cabernet Sauvignom (90%), Merlot (5%) and Malbec (5%). Barrel aging was accomplished over a period of 26 months in French oak; 70% of the barrels were new. 498 cases of the 2004 vintage were produced and the suggested retail price is $75.
Gabe's Take:
A big, bold and expressive nose featuring dried fruit notes leads the charge on this Cabernet Sauvignon. The palate is full flavored with lots of cherry and raspberry. Cranberry is a bit more subtle but also present. These fruit notes underscored by spice, such as black pepper, keep coming with layer after layer of unrelenting flavor. This wine is persistent, powerful and balanced. The term grace under pressure comes to mind. This Cabernet's finish is absolutely excellent with baker's chocolate, continued black pepper, chicory and tremendous wallops of earth and mineral notes. The tannins are firm but yielding (particularly with some air) and fine acid frames the whole package.
I absolutely love this wine for several reasons. First and foremost it's an excellent example of Cabernet Sauvignon that shows off terrific Dry Creek characteristics. Secondly it's further proof that world class age-worthy Cabernet Sauvignon is not only possible in Dry Creek Valley, but it's already on the shelf waiting to be purchased and enjoyed. Finally, this wine is very approachable for Cabernet Sauvignon and drinks quite nicely on its own even though it will stand up to any of the classic Cabernet Sauvignon food pairings that immediately come to mind.
Please vote for Drink Dry Creek! 
October 17, 2009
The Facts:
The 2008 Dashe Cellars Grenache is 80% varietal. 20% Mouvedre from Contra Costa Valley was also blended in. The Mouvedre vines are 100 years old. Barrel aging was accomplished over 8 months in French oak older than three years old. This offering represents the first release of Grenache for Dashe Cellars. Alcohol is a modest 13.8%. 197 cases of this offering were produced and the suggested retail price is $24.
Gabe's Take:
There's evidence that the number of Rhone varietals in Dry Creek Valley appears to be on the rise and I for one am thrilled. Over the years I've been pretty surprised that varietals like Grenache and Syrah don't play a much bigger role here. There are small producers like Frick that focus on Rhone grapes, producers like Dutcher Crossing that have dedicated additional estate acreage to these grapes and folks like Dashe Cellars adding a Grenache to their lineup. Let's hope the trend picks up steam.
Dark berry fruit, particularly blueberry and blackberry as well as black cherry fill the nose of this Grenache. They're joined by violet, lavender and herb aromas. The palate is full and rich with continued dark fruit as well as copious mineral notes. As the fruit heads toward the finish it takes on a savory edge. Kalamata olive characteristics, emerging earth, lots of black pepper and continued mineral notes make up the truly lovely finish on this wine. This selection has soft tannins and is framed by firm acidity. Impeccable balance is the order of the day here.
What I like best about this Dashe Cellars Grenache is two-fold. Foremost is the fact that it's a fine example of the varietal and shows off tons of pure Grenache character. Secondly, that it's a tremendous food wine. Well made Grenache tends to marry well with a diverse array of foods. This excellent selection from Dashe Cellars is right in that sweet spot. This 2008 Grenache is a food and wine lovers dream. This would be a fantastic wine to order at a restaurant when everyone has a different dish. This one has a great shot at matching well with everyone's meal. This Grenache will drink well for a number of years but for my taste will be at its best in the next 2-3 years when it's fresh, juicy fruit flavors can shine.
Please vote for Drink Dry Creek!
October 11, 2009
The Facts:
Armida Winery is located at 2201 Westside Road in Healdsburg. Their tasting room is open daily from 11:00 AM to 5:00 PM. In addition to Dry Creek Valley wines, Armida offers selections from Russian River Valley, Alexander Valley and more. Chardonnay, Pinot Noir and Zinfandel are amongst their offerings.
Gabe's Take:
A bunch of years ago, Poizin was my first brush with Armida Winery, not that I knew it at the time. A friend had poured it for me and while I really liked it I forgot to check who made it before leaving her house and then it sort of slipped my mind. A few months later I was out in Dry Creek Valley and stopped at Armida Winery. As soon as I walked in I saw the bottles of Poizin and then I knew. That was my first time at Armida Winery and I've been there a number of times since, most recently a couple of weeks ago.
There a couple of things that make Armida Winery an excellent Dry Creek Valley stop. Most importantly the wines are diverse, interesting, well made and fairly priced. As noted above the diversity includes making selections using Alexander Valley and Russian River fruit as well as Dry Creek Valley. The diversity of their portfolio is composed largely of single vineyard offerings from each of the appellations above. Within that one of the major draws is their Maple Zinfandel. They make a regular Maple as well as a Tina's Block Maple Zinfandel. Armida Winery is actually the producer making the largest case production of Zinfandel from the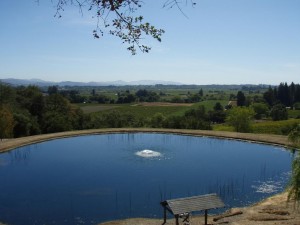 Maple's legendary vineyard. They're also the Winery who has been making it the longest. Considering how particular Tom and Tina are about their fruit, that's quite an endorsement. Tasting the Maple Zinfandels side by side is a fantastic single case study in vineyard and block designate wines. Tasting these up against Poizin is also interesting as the styles and concept behind each wine is so different.
If Zinfandel was the only thing they made at Armida Winery it would be worth stopping, but that's far from the case. They also make single vineyard Pinot Noir and Chardonnay as well as Syrah, Barbera, Cabernet Sauvignion and Antidote, the Pinot Gris based counterpart to Poizin. Altogether it's a wide portfolio filled with many small lot wines, and a couple of larger production offerings.
The staff at Armida Winery is friendly, knowledgeable, and welcoming. The tasting room is inside an interesting domed shaped building and there's a bocce ball court outside, a deck where you can sit and relax and last but not least an outstanding view. Check them out the next time you're in Dry Creek Valley.
Please vote for Drink Dry Creek!
October 5, 2009
The Facts:
Everett Ridge Vineyards & Winery is located at 435 West Dry Creek Road in Healdsburg. They're open everyday from 10:00 AM to 5:00 PM. In addition to their Dry Creek Valley wines the tasting room pours selections from their Mendocino County sister Winery Esterlina. Their Sonoma County line of Diablita wines are also available to taste and purchase.
Gabe's Take:
As surprising as it can be, even to me, there are a few wineries in Dry Creek Valley I have yet to visit. Now granted the list isn't very long, and its shrinking all the time, but still there are a few. One of those omissions was resolved on my recent trip when I visited Everett Ridge Vineyards & Winery for the first time.
The first thing that's apparent when you hop out of your car and make your way over to the tasting room at Everett Ridge is that they have a great view. I know you're probably thinking great views are a dime a dozen in Dry Creek Valley. And it's true, there's a lot of tremendous scenery. Even within that context the view at Everett Ridge is pretty exceptional. Thankfully the tasting room is situated so that you can enjoy the scenery pretty well while you  taste through the current releases.
The tasting fee at Everett Ridge is $15 and they'll refund that if you purchase any wine. Since they have selections from each of their labels available they wisely order them together on the list so that even if you want to got through everything its situated in the right order. As simple as that may sound I've been in tasting rooms that don't do that.
I enjoyed the wines they poured from their sister labels, but the Estate Dry Creek wines are the reason I was there and they didn't disappoint. Amongst my favorites were their 2007 Syrah Roséwhich was bursting with fruit, hints of spice and overall had the refreshing qualities as well as sufficient complexity that I look for in a dry Rosé. There are a few things I don't turn down in a tasting room, heading up that list is Petite Sirah. Other regions can and do make some mighty fine Petite Sirah; but like Zinfandel Petite Sirah for my money is truly at home in Dry Creek Valley. The 2006 Estate Petite Sirah from Everett Ridge was loaded with plum, violets, earth and a boatload of spice notes. It's a fine example of what can be accomplished with this grape in Dry Creek. Someday Petite Sirah will rule the world and Dry Creek Valley will be its capitol. Well I can hope can't I?
Overall the tasting experience at Everett Ridge is a very nice one. The tasting room is quite comfortable and spacious with lots of room to accommodate plenty of guests. The view as I mentioned above is excellent. And most importantly the wines are well made, and fairly priced. There is also a pretty wide selection of things to taste both from Dry Creek and elsewhere. Additionally there's a picnic area where you can relax with a taste of wine, or more, and a snack, all the while taking in that lovely view.
Please vote for Drink Dry Creek!