April 29, 2010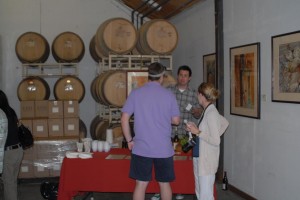 One of the places I'd never been before for Passport was Unti Vineyards. I've enjoyed their wines over the years and I was eager to see what their Passport event was like. The thing that has stood out to me over time about Unti is their varietal selection. At times you go from one winery to the next and taste the exact same grape types over and over. At Unti they make a few you may not be as familiar with. Zinfandel is featured to be sure; but it's joined by the likes of Barbera, Sangiovese, Grenache, Mourvedre and more to form a distinct portfolio that will take your palate on a trip off the typical beaten path.
It turns out Passport to Dry Creek Valley is serious fun at Unti, just like their wines. Music was provided by Tim Vaughn. The band's sound was a blend of rock, jazz and blues all with a vibe that alternated between searing and mellow.
The lineup of wines being poured started with the 2009 Unti Rosé. This wine is a classic example of dry Rosé that landed right in my sweet spot.  It was followed by the 2007 Grenache which is one of Unti's best releases vintage after vintage. There are a few people in Dry Creek who make top shelf Grenache, count Unti in their number.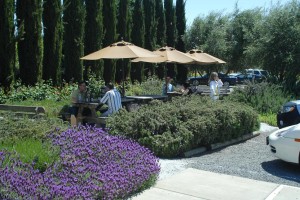 The featured food item at Unti was sliders. Not only where they delicious they also paired wonderfully with the 2007 Zinfandel. There are certain things that are meant to enjoy together. Grilled, tasty meat and Zinfandel are two of those things. Several other wines were also poured during Passport including a couple of Syrahs.
What's most impressive about the Unti wines is that they're incredibly well balanced in a style reminiscent of the old world. While Unti is very much a California producer, their traditions, methods and style assure that they bridge the gap and provide elegant, food friendly wines at reasonable prices. So whether it's over the next few weeks or at Passport 2011, Unti is a fun and tasty stop we heartily recommend
April 22, 2010
The Facts:
The Wilson Winery 2007 Carl's Vineyard Reserve Zinfandel was produced using fruit sourced at a single Estate Vineyard. Carl's Vineyard is on Skaggs Spring Road in the Northwestern part of Dry Creek Valley and was planted in 1993.  This offering is a blend of Zinfandel (97%) and Petite Sirah (3%). Barrel aging was accomplished over 18 months in a combination of French and American oak. 189 cases of this wine were produced and the suggested retail price is $44. A small number (5 cases) of Magnums were also produced and they sell for $100.
Gabe's Take:
I'm kind of amazed every time I sit down to taste one of the Wilson Zinfandels. The sheer number of designated releases they produce of this varietal is a bit staggering. If they weren't distinct there wouldn't be a story, so far though every one I've tasted has stood on its own.
Quality wise, the Carl's Reserve is right in line with the other Wilson Zins I've tasted. It leads with strong, fresh berry fruit aromas in the nose. A combination of red and black fruits, both fresh and dry, star through the palate. Cherry is the most prominent of these and plays a large role in the core of this offerings flavor profile. Black raspberry notes come in second in prominence. Overall the flavors are smooth, sweet and jammy. Lots of black pepper emerges on the finish which has good length. This wine has sufficient acidity and is nicely balanced. Despite alcohol content over 15% this wine doesn't give off any heat.
This wine is another fine and distinct release in the Wilson line. For maximum pleasure drink it over the next 4-6 years, preferably with a rack of ribs or other substantial, full flavored cuisine.
April 15, 2010
The Facts:
Bella Vineyards & Wine Caves is a Dry Creek Valley winery that produces selections from both its home appellation and neighboring Alexander Valley. Their portfolio includes Syrah, Grenache, Petite Sirah and more. However standing at the center of their lineup is a medley of Zinfandels. Their Zinfandel lineup provides quite a window into how this varietal can flourish in Sonoma County.
The 2007 Bella Vineyards Dry Creek Valley Zinfandel was produced using fruit from younger blocks within their Lily Hill Estate Vineyard. This selection is a blend of Zinfandel (90%), Syrah (7%), and Petite Sirah (3%). Fermentation occurred over 10 days with twice daily pumpovers. Barrel ageing was accomplished over 14 months in a mix of French and American oak. 850 cases of this selection were produced and the suggested retail price is $25.
Gabe's Take:
Dark fruit aromas are in strong evidence as in the nose of this Zin and they take hold of you olfactory senses. Black and red fruit flavors are the main theme of the palate and they're joined by an intense, memorable and dare I say delightful undercurrent of spice. These come together to form a core of berry pie flavors. Vanilla kicks in at mid-palate and continues forward. Black pepper emerges forcefully in the finish along with hints of earth, dusty cocoa and wisps of sour cherry. This wine is balanced by solid acidity.
This offering is a great example of Zinfandel in general and Dry Creek Valley Zin specifically. As a whole the Bella Zins have a depth and complexity evidenced only in the best examples of this varietal. This 2007 release from Dry Creek Valley is no exception to that. Drink it over the next few years for maximum pleasure.
Please vote for Drink Dry Creek!
April 5, 2010
The Facts:
The Ridge 2007 Lytton Springs was produced from a blend of Zinfandel (71%), Petite Sirah (22%), and Carignane (7%). All the fruit was sourced from Lytton Springs Vineyard which includes vines with varying ages, some over 100 years old. Oak aging was accomplished over 15 months in100% American oak. Barrels used were new (21%), one, two and three years old (48%), as well as four and five years old (31%). The final blend of this wine was assembled using 21 separate lots. Ridge first made the Lytton Springs wine in 1972.The current vintage has a suggested retail price of $35.
Gabe's Take:
Cinnamon, cardamom, and juniper berry aromas lead the nose of this wine along with berry/bramble characteristics. Berry pie notes star through the big, bold and gloriously dry palate of this 2007 wine. A solid dollop of earth, complemented by mineral notes emerge in the above average and fairly intense finish of this offering. Biting tannins mark the firm structure of this Zinfandel based blend, which also features rock solid acidity.
This is a very appealing wine that will certainly improve with some time in the bottle. If you're going to drink it over the next couple of years I highly recommend decanting it. An hour helps, but you really need two solid hours of air right now to allow the 2007 Lytton Spring to shine. This offering is a good example of both the Ridge style and the excellent fruit coming out of Dry Creek Valley.
Please vote for Drink Dry Creek!