Passport 2010: Sooner Than You Think!
January 19, 2010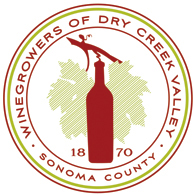 It may still be January but it's also less than two weeks until tickets go on sale for Passport 2010. And that means less than 3 months from then until Passport. While that may seem a long way off, time has a way of slipping away. 2010 marks the 20th Anniversary of this signature Dry Creek Valley event. While the Winegrowers of Dry Creek Valley and the participating Wineries always do a nice job, I imagine the 20th Anniversary will inspire even greater things than usual. One of those things is Gateway to Passport. This intimate dinner event takes place the evening before Passport begins, at Charlie Parlmer's Dry Creek Kitchen. We'll be at Passport to Dry Creek Valley and we hope to see many of you there! Read more about it including specific details in the Winegrowers Press Release Below:
Escape to Passport to Dry Creek ValleyT for a journey of wine, food and fun! We invite you to join us for the 20th anniversary celebration of Passport to Dry Creek Valley on April 24 & 25, 2010.
We are also introducing Gateway to Passport at Charlie Palmer's Dry Creek Kitchen and Hotel Healdsburg from 6:30-9:30 p.m. on April 23, 2010. Tickets go on sale February 1, 2010 at 10:00 a.m. PST!
Remember, for the first time ever, tickets will be sold concert style! That means first come, first served, so don't wait!
TO PURCHASE YOUR TICKETS: Visit www.wdcv.com or call 877-545-3198 Click on purchase tickets. You will be taken to our online reservation system. You may purchase up to 4 two-day Passports OR 4 Sunday-only Passports. You may also purchase your Gateway to Passport tickets at this time. Choose your starting winery from the drop down menu at checkout (you must choose your starting winery to validate your purchase). Remember the sooner you purchase your tickets, the greater your chances of starting at the winery of your choice!
BEFORE YOU PAY FOR YOUR PASSPORTS PLEASE CAREFULLY READ THE FOLLOWING IMPORTANT INFORMATION: You are responsible for informing each of the persons in your party about the instructions below, particularly the first one. If you are unable to attend, and sell your tickets to another party, it is your responsibility to make the person(s) who purchase the tickets aware of the Passport rules and restrictions.
PASSPORT INSTRUCTIONS: ALL ATTENDEES MUST BE AT LEAST 21 YEARS OF AGE: Due to the number of people and safety concerns, we do not allow anyone under 21 (including small children and babies) into any of the Passport locations. Please be prepared to show a valid photo ID. Please make child care arrangements prior to attending. In addition, no dogs are allowed, unless they are certified service animals.
REFUNDS: Passport Tickets are non-refundable.
EASE OF TRAVEL (2-Day Passports): In order to ease the crowds and lessen congestion, we strongly suggest that you begin your Passport to Dry Creek ValleyT journey in the area of your starting winery. For instance, if you are picking up your Passports Saturday at Mill Creek Winery in the southern end of the valley, plan on visiting Armida, Alderbrook, Everett Ridge, Seghesio, etc. on Saturday.  Then on Sunday, head to the north end of the valley. Or if you are slated to start at Ferrari-Carano on Saturday, stay in the north end on Saturday and visit the southern end of the valley on Sunday.
REVOCATION OF PASSPORTS: The Winegrowers of Dry Creek Valley reservesthe right to revoke the Passport of any attendees who by their actions may cause damage to themselves, other attendees, winery personnel or property.
The Winegrowers of Dry Creek Valley encourage you to drink responsibly.
Follow WDCV on Twitter
Follow WDCV on Facebook
Horizon Airlines offers a special exception to their checked baggage policy at the Charles M. Schulz-Sonoma County Airport. No carry on alcohol is allowed. However, Horizon will accept a box of up to 12 bottles of wine per passenger at no extra charge from customers on flights departing Sonoma County. The wine must be packaged to courier standards for shipment. The liquid and gel ban by the TSA removed the ability of passengers to carry the wine they purchased on board, so Horizon developed this program in partnership with the Sonoma County wine community, allowing customers to purchase their favorite wines and sparing them the hassle and expense of shipping them separately.
Winegrowers of Dry Creek Valley  |  P.O. Box 1796  |  Healdsburg, CA95448 | 707.433.3031 | info@wdcv.com  |  www.wdcv.com
Comments