Visting Kachina Vineyards During Passport 2010
May 13, 2010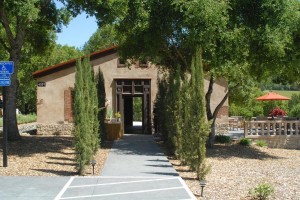 There are many benefits to visiting the same wine region on a regular basis. One of them is being able to see the progression of things. That can be as general as watching the vineyards at different points in a season or as specific as seeing the culmination of a lot of work. During the week after Passport 2009 we had the opportunity to visit Kachina Vineyards. At that time construction was well underway, but ongoing.
Flash forward to Passport 2010 and Kachina Vineyards is up and running and open. They have some construction projects still in progress. But they are open for business and you can call and schedule an appointment to taste wines with them. They're a small boutique winery so you're going to get lots of personal attention. Kachina is the brain child of Nancy & Greg Chambers. They're lovely people and great ambassadors for both their winery and Dry Creek Valley as a whole.
Dave and I were lucky enough to visit with them on a couple of occasions. The first was right in the middle of Passport weekend. For a new producer that was open for their first ever Passport they had to be encouraged by the crowds they were drawing and the buzz Kachina Vineyards elicited. At many other stops along the way I heard people commenting on Kachina in a "you have to get over there" kind of way. Experiencing what Greg & Nancy put together for Passport I'm not surprised.
The front door to their barrel room was the entrance to their event. At that point we were greeted by Nancy who was pouring the first sample of wine the Kachina Chardonnay. A little bit later we found the first food station which had a perfect pairing for the Chardonnay; pears and cheese drizzled with honey. This combination worked wonderfully and highlighted the beauty of the Chardonnay. On a patio beyond the barrel room there was a band playing traditional jazz vocal tunes; think Harry Connick or Sinatra, style-wise. Right nearby was a bar serving the Kachina Cabernet Sauvignon. A second food station had cured meats and cheeses to pair with the wines as well. The last stop was the Kachina Zinfandel Port which was being paired with chocolate truffles. This is a match that works so well mere words, no matter how many I conjure up, won't be enough to describe it properly. While this was their first stab at Passport it didn't stop them from hitting it out of the park. My advice is to put Kachina on your list to visit soon or at the very least during Passport 2011 so you can taste their wine and pairings for yourself.
A few days later we stopped by to spend some quieter time with Nancy and Greg. In addition to being curious how they felt their 1st Passport went, Greg had promised some barrel samples. We tasted several wines out of barrel and each remains true to the wines that they have been making so far in the short life of the winery. But for me the highlight was a barrel sample of Charbono. This rare grape is represented by well under 100 acres in all of California. If the sample I tasted is any indication, when they bottle and release it, the Kachina Charbono is going to be a big bruiser of a wine. It's deep purple and inky with intense flavor, terrific acidity and nice structure. I for one can't wait for its release.
Spending time with Greg and Nancy is fun. In case you can't tell we're a little warm and fuzzy about them. Visit Kachina Vineyards, taste their wines, enjoy their hospitality and I'm confident you will be too.
Comments