Quivira Vineyards & Winery Ushers in a New Era
June 7, 2011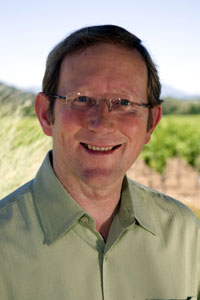 There are certain changes a Winery makes on a year to year basis that are transparent to consumers and don't necessarily affect the wine that ends up on the shelf. And then there are changes that impact every aspect of an operation, from soup to nuts; bringing in a new winemaker is a wholesale change that can have a dramatic impact. Just about a year ago Quivira Vineyards and Winery brought aboard winemaker Hugh Chapelle. About a month ago I had the opportunity to spend a morning with Hugh at the Winery and I learned a lot about his background, plans for the Quivira wines moving forward, and his overall winemaking philosophy.
Some winemakers are like short order cooks; they follow a recipe and make the wine in question. Others are comparable to master chefs, they improvise on the fly and adapt to the unique needs of each individual lot of wine. Hugh Chapelle falls into the master chef category. He doesn't get caught up in the notion that Zinfandel for instance is treated in one specific manner all the time. Sure he might start out with the standard treatment as a guide, but his goal is to follow the needs of each specific wine. With a guiding philosophy of that nature, Quivira who has been turning out terrific wines for quite awhile now, is poised to become one of the most compelling producers in Dry Creek Valley.
In addition to the approach Hugh takes with each lot of wine, the changes he's making to the portfolio itself are also cause for excitement. Certainly the important players in the portfolio are going to continue. Perhaps a few of the fringe players will disappear to be replaced by more interesting wines. Already in his first year several small lot white wine blends were produced. These white wines and the current release of Rosé are the first releases at Quivira to showcase Hugh's touch. A couple of the new red releases were ushered the last couple steps of the way by his guiding hand. The results I tasted were nothing short of delicious and exhilarating. I've long been a fan of the Quivira wines, but I'm truly excited to taste even more impressive releases in the upcoming vintages as Hugh has the chance to impart greater influence over future wines. And to be clear it's not that Hugh has a heavy hand with the wines at all in fact anything but. He's would best be described as an overseer, making sure things go well and pointing the wines in the right direction. Going back to the master chef analogy, Hugh knows that he's working with great ingredients and simplicity is often the way to let those shine.
Quivira Vineyards and Winery has been an important part of Dry Creek Valley for quite a few years now. Their commitment to Organics and Biodynamics over the last handful of years has made them a destination for those interested in seeking out the more natural of Dry Creek Valley producers. And while they have been making very good wines, I'm quite convinced that the quality of their wines will be boosted significantly with the presence of Hugh Chapelle. If you haven't been over to Quivira in awhile, now's a great time. Change is a foot and it's truly thrilling. Look for us to cover it all here.
Comments