Gadget Review # 2: The Respirer Wine Aerator
March 22, 2009
The Claims:
1) Fits easily over a glass
2) In moments a $20 bottle will resemble a $40 bottle
3) Fits in the wine bottle after you are done to conserve every drop
Once again I have the privilege of reviewing a wine aerator which is fast becoming my favorite type of wine accessory. Why my favorite? Because as with my previous review this one works! So now let's take a closer look.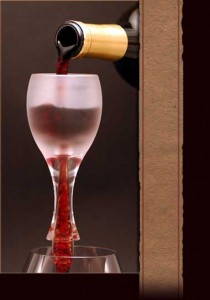 The Respirer is pronounced Res-pea-air (French for breathe). All of these devices appear to be invented in the USA, made in China, and named by a Frenchman. Nothing against Frenchmen, but the USA has enough trouble asking for cabbernuts and peanut noy-er….do we need to do this to our own citizens? That being said, I liked this product.
This device, as the Soiree, lives up to the promise of allowing the wine to breathe in this crack'n'pour society. I had a criticism of the Soiree which is it seemed a bit fragile and should come with a case so that you could bring it to a restaurant. Thank you Respirer for answering that call. This device is both more durable (made out of a thick plastic instead of glass) and comes with a case. This is definitely a device I would bring to a restaurant. Let me rephrase, this is a device I WILL bring to a restaurant. Thank you.
But as much as this is great news, there are a couple of small issues. This device makes some noise, and a strange one at that. It is a kind of sucking gurgling sound that is hard to emulate.  I will use this at a restaurant, but if it is very quiet I will probably look around to see who was listening. Also, compared to the Soiree, this item is a bit kludgy (for lack of a better term). The Soiree nicely fit in the bottle without falling out and from there it was a one handed operation. This device requires you to hold it over a wine glass and pour with the other hand. You can then put the Respirer in a little holder or on top of your wine bottle, but it does not fit snugly on the bottle top so this could fall out rather easily.
The Results:
1) Fits easily over a glass
Yes, this product will fit easily over a glass. The wine comes out of a spout approximately the size of the stem of a wine glass. If you can't make this work, PUT THE WINE DOWN.
2) In moments a $20 bottle will resemble a $40 bottle
Yes this is true if you only use this on the $20 bottle – in reality this will help most bottles taste better when time is at a premium. As with the Soiree, be careful with older, more fragile bottles that may be damaged by these devices.
3) Fits in the wine bottle after you are done to conserve every drop.
Ok – as I said, it fits, but not snugly. This may be helpful when you have limited table space, such as at a restaurant but otherwise I'm not sure why I would bother.
In conclusion, this gadget works well, it suits a purpose, and it is affordable at $39.95. I don't think that I would replace my Soiree with it, but I would probably add it to my collection. There are times that I would prefer to use this one….if for no other reason than to hear that blessed noise.
Please vote for Drink Dry Creek!
Comments