// BLOG
March 11, 2013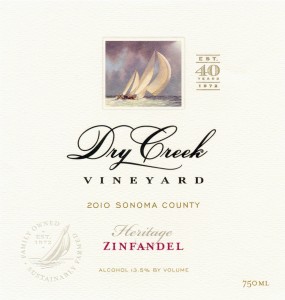 California's Dry Creek Valley is the home office of Zinfandel. Certainly there are fine examples made elsewhere, but Dry Creek Valley has a stunning away of great ones emanating from its confines. Dry Creek Vineyard, the namesake winery of the appellation makes several consistently terrific Zins themselves. Today I'll look at the current release of their Heritage Zinfandel.
The Dry Creek Vineyard 2010 Heritage Zinfandel was produced from fruit sourced in Sonoma County. This vintage blends together Zinfandel (88%) and Petite Sirah (12%). Fermentation took place over 18 days in stainless steel followed by 14 months of barrel aging in a combination of French, American and Hungarian oak; 15% of the barrels utilized were new. Just more than 13,000 cases of this Zinfandel were produced and it has a suggested retail price of $19.
The nose of this 2010 Zinfandel is inundated with brambly dark berry aromas and a supporting undercurrent of crème fraiche. Black cherry flavors lead the palate along with bits of blueberry, blackberry and lots of spice character. Minerals, sour fruit, black pepper and dusty chocolate notes all emerge on the finish which has good length. This is a classically styled Zinfandel that has some jam components but it leads with excellent structure.
What I love most about this wine is its consistent quality. Vintages vary to be sure but year after year this is a well proportioned, even keeled Zinfandel. For those who prefer their Zins balanced and food friendly this is absolutely one of the go to choices in the under $20 price tier. It's delicious today, particularly after 45 minutes of aeration, but this Zin will drink well for the next 5 years at minimum.
November 10, 2012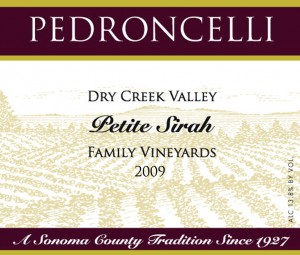 If there's a better Petite Sirah for under $20 than the one Pedroncelli releases vintage after vintage I have yet to taste it. And as much as I love Petite Sirah I sample every example can get my hands on. At some point it would stand to reason that someone would challenge them in this category. But with fruit that's under their control, a very long track record of making affordable wines in Sonoma County and the fact that Dry Creek Valley is the epicenter of the best Petite Sirah in the world, the Pedroncelli family has an advantage. With all of that in mind I sat down to taste their latest release of Petite to see how it compares to my somewhat lofty expectations.
The Pedroncelli 2009 Family Vineyards Petite Sirah was made from fruit sourced at two vineyards within Dry Creek Valley that have family connections for the winery. Roughly half came from their own estate vineyard and the balance was sourced at a vineyard owned by John and Jim Pedroncelli's niece. Barrel aging occurred over 17 months in a combination of French and American oak. This wine has a suggested retail price of $16.
Violets and black plum aromas fill the nose of this 2009 Petite Sirah along with hints of vanilla and cardamom. From the first sip through the very last a core of dried black and purple fruits are revealed with red fruit characteristics making a cameo appearance here or there. Blackberry, plum and blueberry are the stars here. The firm tannins cling to the back of your throat pleasurably. This finish shows off earth, continued dark fruits and hints of minerals. This wine will absolutely flourish paired with hearty and full flavored foods such as roasted meats and stews or mushroom heavy dishes. However It's a delicious and glorious wine all by itself.
I'm thrilled to report that the 2009 vintage of Petite Sirah from Pedroncelli is in keeping with previous vintages when it comes to quality, value and eminent drinkability. This is quite simply the best Petite Sirah on the market for under $20. It's delicious today but has the tannins and structure to age gracefully for a decade. 10 years from now you'd have a softer wine that is silky smooth and even earthier. However it's so damn good now and they literally keep making more so my advice is to knock it back.
May 22, 2012
The Facts:
The Dutcher Crossing Winery 2009 Bernier-Sibary Zinfandel is a classic Dry Creek Valley Field Blend. In addition to Zinfandel this single vineyard effort contains Petite Sirah, Carignane, and Mourvedre. The grapes are picked at the same time and co-fermented. Barrel aging was accomplished over 14 months in French oak; 30% of them were new. This wine has a suggested retail price of $39.
Dutcher Crossing Winery is located at 8533 Dry Creek Road in Healdsburg. They're open every day from 11 AM until 5 PM. They close on a handful of major holidays. Please check their website for those specifics, or call them at 866-431-2711. Tours and private tastings are also available by prior appointment.
Gabe's Take:
Aromas of black raspberry and plum fill the heady nose of this 2009 Zinfandel. The palate is rich, layered, powerful and simply loaded with an overflowing abundance of intense dark fruit flavors. A host of spices such as black pepper and nutmeg are present as well. The finish shows off a bit of bacon fat as well as sour black cherry characteristics in droves followed by an intense wallop of dark chocolate sauce. This wine is big and powerful to be sure but it retains balance and grace, never going out of proportion. It's a classic example of Bernier-Sibary Zinfandel from Dutcher Crossing Winery. This release has established itself as one of the very best single vineyard Zins in Dry Creek Valley year after year. In a valley famous for it's Zinfandel, that's no small feat. Kudos to Deb Mathy and her team for the quality wines they keep putting out.
April 23, 2012
The Facts:
The Dry Creek Vineyard 2008 Old Vine Zinfandel was produced using fruit sourced at vineyards throughout Dry Creek Valley. In strictly keeping with their ideal of the Old Vines designation the vines soured range in age from 85 to more than 110 years old. In addition to Zinfandel (92%) this offering also contains a small amount of Petite Sirah (8%). Barrel aging took place over 18 months in a combination of French (71%), American (18%) and Hungarian (11%) oak; 51% of the barrels were new. Just fewer than 2,700 cases of this Zinfandel were produced and it has a suggested retail price of $28. Dry Creek Vineyard is located at 3770 Lambert Bridge Road in Healdsburg. They're open daily from 10:30 AM until 4:30 PM. Private tasting options and tours are available by prior appointment. Check their website for the details or call them at 800-864-9463.
Gabe's Take:
Dry Creek Vineyard makes several fine Zinfandels each year. The vineyard designates are quite special in their own right. Their Old Vine Zin though has its own unique appeal. Vintage after vintage this wine showcases what an excellent cuvee style offering made from true Old Vines in the heart of Zin country is all about. After tasting the 2008 I can report that it's no exception. Blackberry and dark plum aromas are in strong evidence on the nose. The first sip reveals raspberry and cherry characteristics in abundance. Darker fruit characteristics reveal themselves just a moment later and carry through the finish which shows off hints of pencil lead and graphite as well as a veritable avalanche of spices. As it has been over the years this is a classically styled Zinfandel that is an absolutely archetypal example of Dry Creek Valley.
March 18, 2012
The Facts:
The Wilson Winery 2009 Sydney Vineyard Zinfandel was produced from fruit sourced at the wine's namesake vineyard. This property which was planted in 1989 sits at an elevation of 1,500 feet. The Sydney Vineyard Zinfandel is a 100% varietal wine. Fruit was hand harvested and fermented in open top vessels with punchdowns three times a day. Aging took place in a combination of French and American oak over a period of 18 months. 540 cases of this wine were produced and it has a suggested retail price of $36. Wilson Winery is located at 1960 Dry Creek Road in Healdsburg. They're open daily from 11 AM until 5 PM. Several tasting options are available (some require a prior appointment). They close on some major holidays so check their website for those specific details or call them at 800-433-4602.
Gabe's Take:
Wilson Winery has a fairly sizeable portfolio of wines and utilizes many of the grapes Dry Creek Valley is famous for. As it happens, Dry Creek Valley's best known grape, Zinfandel, is also what Wilson specializes in. I enjoy tasting the various vineyard and style designations they produce each year. The 2009 Sydney's Vineyard Zinfandel has a deep, dark nose loaded with Blackberries, plums, and blueberries as well as white pepper and vanilla bean. The palate is intense and layered with tons of flavors. Black Cherry, red and black raspberry and a ton of spice characteristics are all present. Rhubarb, pomegranate and lingering kirsch liqueur notes are in evidence throughout the persistent finish which has terrific length. This is a balanced Zinfandel that highlights bold fruit flavors and firm acidity. Without question this wine is made to be paired with some full flavored foods.